You can view the list of all employees and their summarised information.
To do that, you need to first move to the Employees page. Your account can have single or multiple businesses. The steps to move to the Employees are different for both single and multiple businesses. The steps are given below.

The logged in account has a Single Business
Log in to Surf Payroll.

| | |
| --- | --- |
| | If your business has payrolls not submitted prior the current date, Surf Payroll displays a message recommending you submit them soon. |

The Dashboard page appears. On the left panel, click Employee>Employees.
View the Employee list and their summary information on the Employees page.
| | |
| --- | --- |
| | You can sort columns in the ascending or descending order. To sort, click on the column name. |

The logged in account has Multiple Businesses
Log in to Surf Payroll and find the required Business.
On the Business page, under the Select a Business heading, click the required Business name.

| | |
| --- | --- |
| | If the chosen Business is more than a year old, then you need to select the tax year for which you will manage the payroll. |

The Employees page appears. On the Employees page, view the employee records.
To sort data, click on the Code column.

To change the number of records to be displayed on a page, click 10 or 50.
Things you can do
Moving to a Different Business
If you have multiple payrolls and you wish to move from one payroll to another, you can click the Business name at the top right of the screen, this will bring you back to the list of Businesses where you can select a different Business name to open.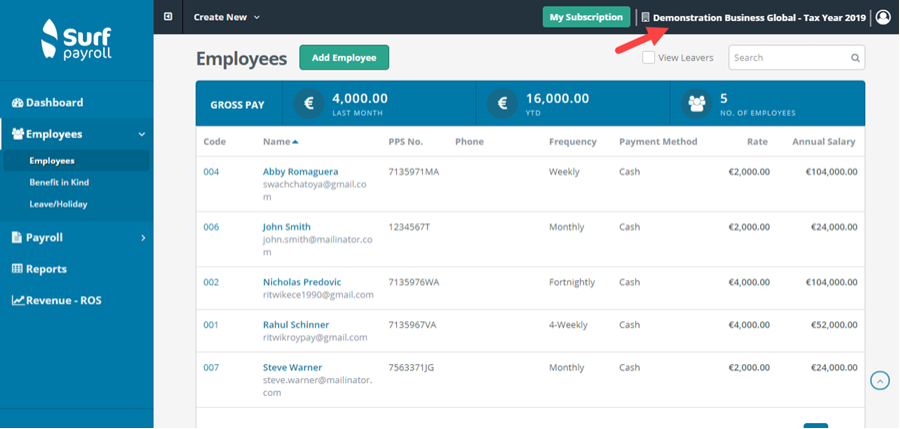 Viewing Leaver Employee Records
You can view the records of the employees who have left the services of the Business. By default, though, the Employees page shows the active employee records. To view the leaver records, complete the following steps.
The page shows the active employees by default.
To view leaver records, select View Leavers.
The Employees page shows the leaver employee records.
Do the following, if required. Click and then click:

Open to view the record.
Benefits to view benefits' details.
Leave or holidays to view the details.
TDC to view the tax deduction summary.
Removing employee record is not allowed if one or more payrolls had been generated.