You can add as many businesses as required to your account by subscribing to a plan and also sign in for a payroll plan optionally.
To add a business, complete the following steps.
1. Log in to Surf Accounts and on the Business page, click Add New Business.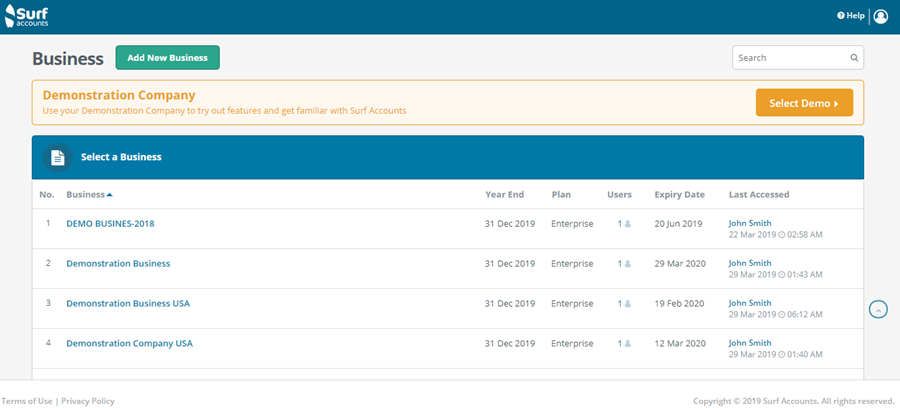 2. On the Business Setup page, enter the following details.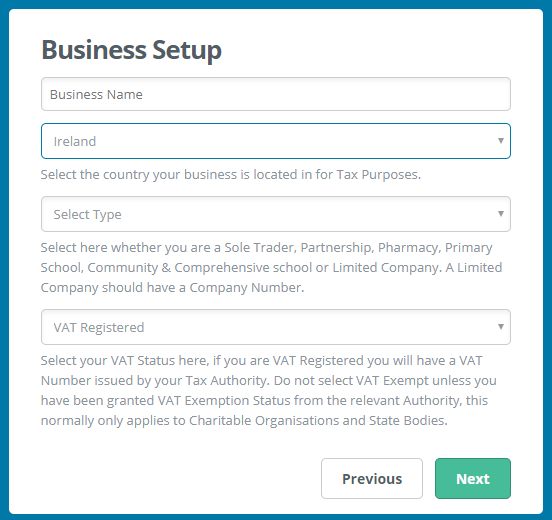 FIELD
STEP
Business Name *
Business name.
Business type *
Business type. If the business type selected is Secondary Schools or Primary School and Community and Comprehensive School, then the default financial year will be 01/09/2019 - 01/08/2020 and the Chart of Accounts becomes school specific. For example, unique account groups and nominal codes become available.
Chart of Accounts
Do you want to use the format Surf Accounts provides or an existing one used by an existing business under the same user?
Country

Country where the business is located. Depending on your selection, the following will be determined:

VAT calculations on transactions with local, EU or non-EU trading partners.
If the country selected is within the EU, VAT Returns, VIES and Intrastat will apply

VAT Registered
VAT registration status.
| | |
| --- | --- |
| | * indicates a mandatory input. |
To move to the payments plan page, on the Business Setup page, click [Next]. The Select Your Plan page appears.
On the Select Your Plan page, choose the required plan and click Select Plan. The Payment Preferences page appears.
Optional. To buy a plan, click Add Payroll and select an appropriate plan.

| | |
| --- | --- |
| | If you buy a Surf Payroll plan, the Launch Payroll button will be available on the left panel on all applicable pages, else, the Add Payroll button will be available. |

On the Payment Preferences page, enter the required details and click Next.
As the next step, you need to complete a one time set up.